Enjoy Panoramic night view of Sapporo at Mt.Moiwa and Lamb Genghis khan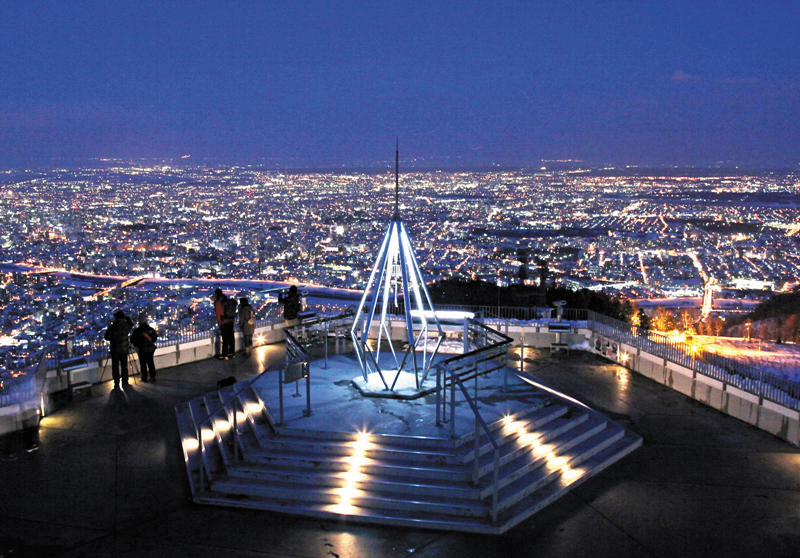 Japan new three great night views

◯Lamb Genghis khan (dinner)

◯Moiwa mountain(Enjoy Panoramic night view of Sapporo)

Apr.20~Sep.30
Departure date:Daily

■ Tour Price  Adult 4,980yen/person, Child 3,980yen/person(ages 3-11)
■ Minimum number of participants 10 people
■ including dinner
Course schedule
Day
Itinerary
Meal
1
Sapporo Grand Hotel (6:30 p.m. dep.) == MIYANOMORI Restaurant(Lamb Genghis khan) == Moiwa mountain hillside station. Transfer to the to the Top of Mt.Moiwa by a ropeway and a mini cable car (Enjoy Panoramic night view of Sapporo) == Sapporo Grand Hotel (10:00 p.m.arr.)

※Moiwa mountain ropeway will not be operated in case of bad weather.

※Meeting Time: 6:10 p.m

※Meeting Place: W4 N1 Chuo-ku Sapporo-shi 1F of Sapporo Grand Hotel next to the front dest

Breakfast ×

Lunch ×

Dinner ●
Notes
Site reservation deadline: seven days before departure day.
Please click here if over-time.——> <contact us>。

■NOTES for all bus courses
・An operation assistant will get on a bus.
( No bus guide will be provided.)
・An operation assistant does not work as a guide, an interpreter
or a tour conductor.
・Meals 1 dinner
・Minimum number of participants 10 people
・A tour price for children(Ages3~11)is shown on an each course of a pamphlet.
・A tour price for infants are free. No seats and meals are provided.
Children(Ages3~11)
・Tour participants are requested to fasten seatbelt for safety while a bus is in motion.
Tour price
Enjoy Panoramic night view of Sapporo at Mt.Moiwa and Lamb Genghis khan
| | |
| --- | --- |
| Adult/person | 4,980yen(tax included) |
| Child/person(ages 3-11) | 3,980yen(tax included) |
A tour price for infants are free.
Calendar
A window with tour calendar will show up when you click a button below.
Remarks
■Cancellation Charges If a cancellation notice is received by HOT

11 or more days prior to the tour date………………………………No charge
10 days to 8 days prior to the tour date……………………………20% of the tour fare
7 days to 2 days prior to the tour date………………………………30% of the tour fare
1 day prior to the tour date………………………………………………40% of the tour fare
prior to the starting time of the tour.…………………………………50% of the tour fare
after day of departure, or in case of failure to show without notice……………………100%of the tour fare
Travel Agency
Hokkaido Optional Tours